We apply our privately designed line of colors to high quality fabrics to offer you the best product for your creative needs. The hand dyeing process we've perfected over our 30+ years produces a beautiful tone-on-tone texture that reads as a solid, but has depth and variety that will never be replicated by mass-production. Cherrywood is proudly made in the U.S.A. by women who sew, create and dye a little every day.
We regret that we cannot offer international shipping at this time.
<>
CLICK HERE if video does not play
Subscription Service starting January 2021!
Join our Vintage Club - A Batch From the Past
Get a vintage 8-step gradation from our colorful past. Only ONE BATCH dyed every month. You will also receive two spools of matching Aurifil thread, and a bonus project for inspiration.
VERY LIMITED availability so
sign up for Batch From the Past (CLICK HERE) by December 15, 2020!
- - - - - - - - - - -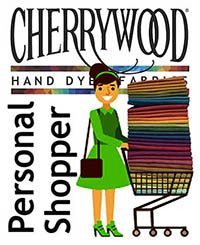 Try our FREE PERSONAL SHOPPER program!